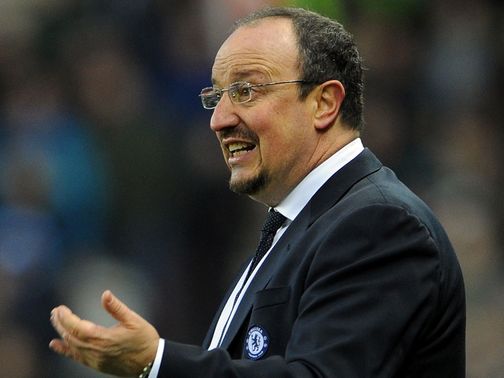 The Spaniard has found himself under fire from sections of the Chelsea faithful since his appointment in November due to his prior association with Liverpool.
However, the 52-year-old says he has also received backing from many supporters which will not have been noticed.
He told Spanish newspaper Marca: "I have to say the fans are very good to me in the street.
"Many Blues fans stop me and tell me to keep on working and not to listen to the critics.
"I have a lot more day-to-day support than is shown."
Benitez added of the criticism he has received: "It's not so much. I don't give it any importance. We know there are four or five banners and they repeat them a lot.
"As well as that, this particular group, from the first moment and only because of my past at Liverpool, are against me. They don't criticise my work or the team's play, and I can't change that."
Benitez also defended the work he has done at Stamford Bridge.
Yesterday's win over Sunderland saw them move back above Tottenham into third place in the league, while they are through to the last four of the FA Cup and in the quarter-finals of the Europa League.
Asked to analyse his time in charge, Benitez said: "Maybe it's difficult to understand from outside, but I think we are doing a great job.
"People only look at results, and you need to analyse when and how we got there, and look at the overcrowded fixture list.
"With three games a week it's impossible to have the physical, technical and tactical training that you want," added Benitez, whose side will play 70 competitive games this season if Chelsea reach the finals of the two knockout tournaments next month.
"We are in the semi-finals of the FA Cup, in the quarter-finals of the Europa League and we are third in the Premier League. I think we are fulfilling our objectives."
Benitez was also keen to point out this Chelsea squad is a work in progress with lots of new faces this season.
He said: "People still think that this is the Chelsea of (Didier) Drogba, (Michael) Essien or (Frank) Lampard at its finest. Now it's a side in transition, with (Eden) Hazard, (Juan) Mata, Oscar, (Marko) Marin and (Victor) Moses. They are young players who have to adapt.
"We are moving away from a more physical side to a team which is more technical, which is what we have now.
"Therefore, if you make a professional analysis, you see that we're doing a good job. If you only look at results, there will be people who expect more, and others who don't."
Benitez is expected to leave Chelsea this summer and has been touted as a possible replacement for Jose Mourinho at Real Madrid if the Portuguese calls time on his stint at the Bernabeu.
Madrid-born Benitez said of that speculation: "It's clear that I know a lot about the club, as I was there from the age of 13 as a player and then a coach.
"It's nice to be linked in one way or other, but it doesn't make me lose my focus on the present, which is Chelsea."
On where he might be coaching next season, he added: "My idea is to coach a competitive team and, why not in England? We need to wait and see."