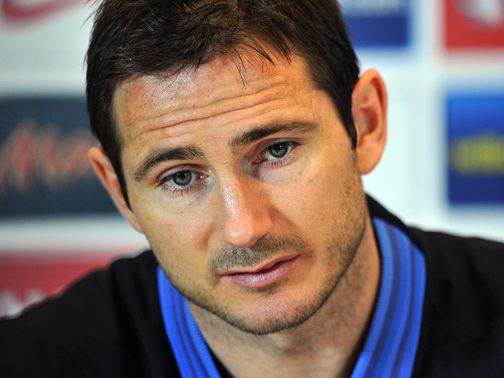 Rafael Benitez's short term contract at Stamford Bridge runs out in the summer and, with Mourinho seemingly approaching the exit door at Real Madrid, speculation has mounted that the Portuguese could return to west London in the summer.
Lampard's future is also up in the air with the club seemingly reluctant to offer him a new deal when his current contract expires at the end of the season.
The 34-year-old played some of his best football during Mourinho's trophy-laden spell with Blues and, while Lampard was full of praise for his old boss, he refused to comment on speculation linking him with a return.
Speaking at the handover of the Champions League trophy in London, Lampard said: "Jose's an absolutely fantastic manager, one of the legends of the Champions League.
"There's no doubt about his credentials, whether he comes to Chelsea or stays at Real Madrid or whatever club he goes to, I believe he will be successful.
"That's all he's ever done and from working with him I'm very, very sure of that.
"It's not for me to talk about the decisions. I wouldn't want to undermine the current manager for the last eight or nine games by giving you a headline like that.
"While there's a manager in place now, although we know what seems to be coming at the end of the season, I don't think it's right to speculate about who the manager will be next season.
"I'm not sure if it affects my decision. If a manager comes in who likes me.... I don't know."
Lampard has called on Chelsea to give their next manager a fair crack of the whip and hopes that he lasts "more than half a season".
Benitez was appointed as interim manager in November, while neither of his predecessors, Roberto Di Matteo and Andre Villas-Boas, managed a full campaign.
Lampard said it was important for whoever is in charge next season to be allowed to build some consistency.
He said: "Whatever the situation, it would be nice if a manager could come in and have a good crack at some consistency and stay in the job.
"We all understand we've had some interim managers and the fans and the club would probably be happier if we could get a manager who could stay for more than half a season, or for some period of time."
Meanwhile, all eyes this weekend will be on Benitez as he prepares to return to Anfield on Sunday.
In six years on Merseyside, Benitez helped Liverpool to the 2005 Champions League in his first season, the FA Cup, the Community Shield and European Super Cup, while the Reds finished second in the Premier League in 2008-09.
He declined the opportunity to assess the Reds since his departure in June 2010 or to talk about events at Anfield ahead of his first return as an opposing manager.
"I'm the Chelsea manager and I want to get three points," said Benitez, who declined to reveal whether he was a candidate to succeed Kenny Dalglish last summer, when incumbent Brendan Rodgers was appointed.
"I cannot change the past. I'm really proud.
"The rivalry and all these things... I can understand now, but it's very clear: I have to concentrate on football, on games.
"My commitment is with Chelsea and I will use common sense and do what I have to do, concentrate on games, try to get three points.
"Afterwards, I will wish the best to Liverpool Football Club, because it was six very good years there."
Asked about the prospect of a warm reception from Liverpool's supporters, Benitez said: "I will try to concentrate as much as I can on events on the pitch.
"If you can be successful with any team, I'm sure that the fans will appreciate that."
Rarely has Benitez experienced taking a new side back to his former team.